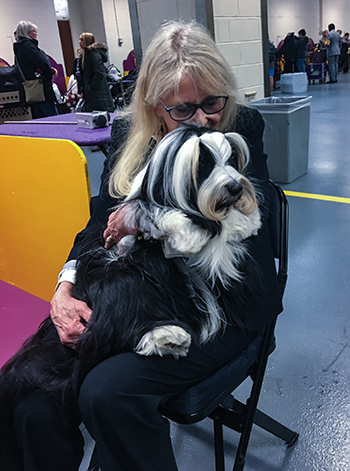 My Tibetan Terrier, Ali Baba, the day he won breed at Westminster.
Brought to full success by a great team, Janet Krynzel, Brian Leonard, and David Murray.
My Story
I was born and lived on a Montana potato farm. Raised in the Montana mountains.
I experienced an exciting childhood in the forests and rivers with my logger father, three sisters, and a serene mother.

My settler grandparents & parents provided an early childhood with work horses, dairy cows, Hereford beef, chickens, pigs, geese, rabbits, cats, and dogs for companions. We made major gardens and maintained fruit trees. All of our food was from the farm or hunting and fishing.

My mother purchased a very large mansion where she fed and helped many people who lived with our family of four girls.

I moved to Southern California to continue studying literature, science, and journalism..

After many experiences in San Francisco & Los Angeles, I studied painting at the Arts Students League in New York with Provincetown's,

Leo Manso.

Somewhere in there, I owned a truck stop cafe in Coram,Mt . I owned a restaurant in Kalispell, Mt . I was a chef.

I worked in Los Angeles in my art studio and for a production company. We produced Reebok videos. I worked as production designer.

I fell in love with a Tibetan Terrier and began a history of work for the AKC breed.

My husband, Daniel, and I own an

orchard at Flathead Lake

, Mt. . I maintain a studio.

All the while I have made art since my dad taught me about the alphabet and coloring with crayons,

Many people and corporations own my work.

MONTANA
"A place belongs forever to whoever claims it hardest, remembers it most obsessively, wrenches it from itself, shapes it, renders it, loves it so radically that he remakes it into his own image." Joan Didion